A1K9 Family Protection Dogs News and Media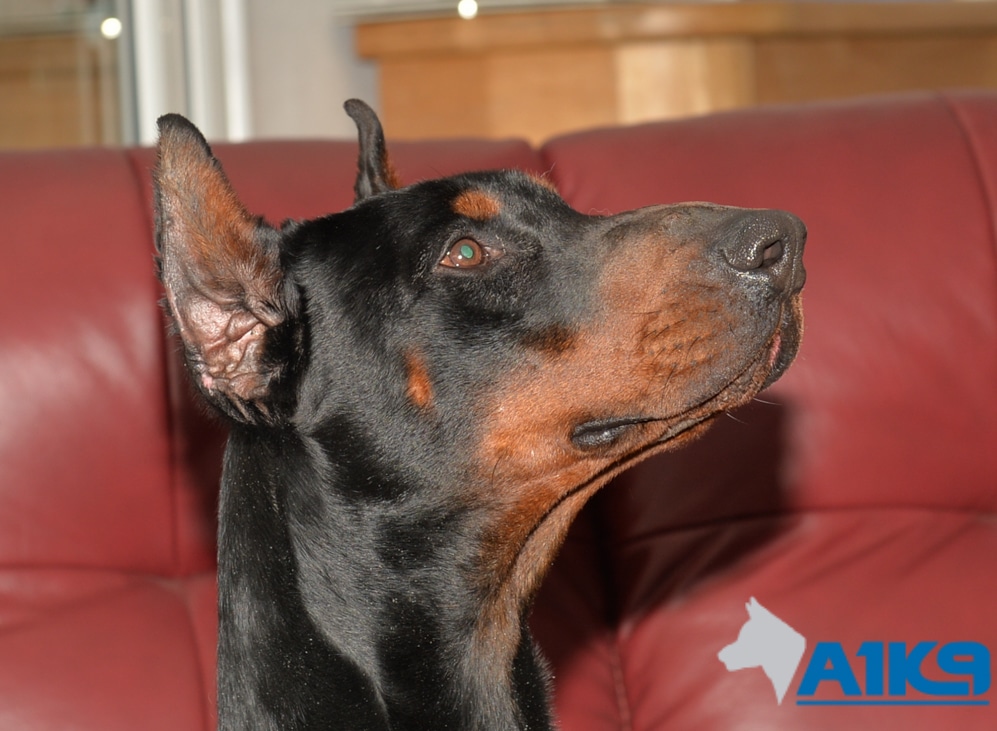 Dobermann male Argo was imported byA1K9 from Eastern Europe. Cropped and docked and with a great working ability, this handsome boy is a rare reminder of what Dobermanns used to look like 20 plus years ago.
Originally showing great promise in his training both on the obedience and protection fronts Argo has not made the cut as an executive level dog and will be supplied as a pet/deterrent as he lacks the commitment that we look for when it comes to his protection work.
Argo could be described as a typical young Dobermann male with a great love for life, energetic, athletic and lots of fun and one who enjoys plenty of exercise and stimulation.
Argo would be a definite candidate for an active family who enjoys spending lots of time outdoors and who may be looking for an alternative to the German Shepherds that we usually train.
Whilst being at A1K9, Argo has shown himself to be very social with people of all ages and his happy to interact with other dogs as long as they do not try to become too dominant.
Argo's looks alone should certainly serve as a great deterrent to those unwanted visitors and he will without doubt prove to be a lovely loyal and impressive looking pet and companion.
It is unusual to find Dobermanns of this calibre, Argo who comes from great bloodlines, has been health tested, hips and elbows x-rayed and certified and has tested negative for Von Willebrand disease.
All in all a great dog whose looks reminds CW of the Dobermanns that he used to own and train 30 plus years ago.
More pictures  and updates to follow as Argo's training progresses. Available to be reserved, he is likely to be ready late summer.
Read More...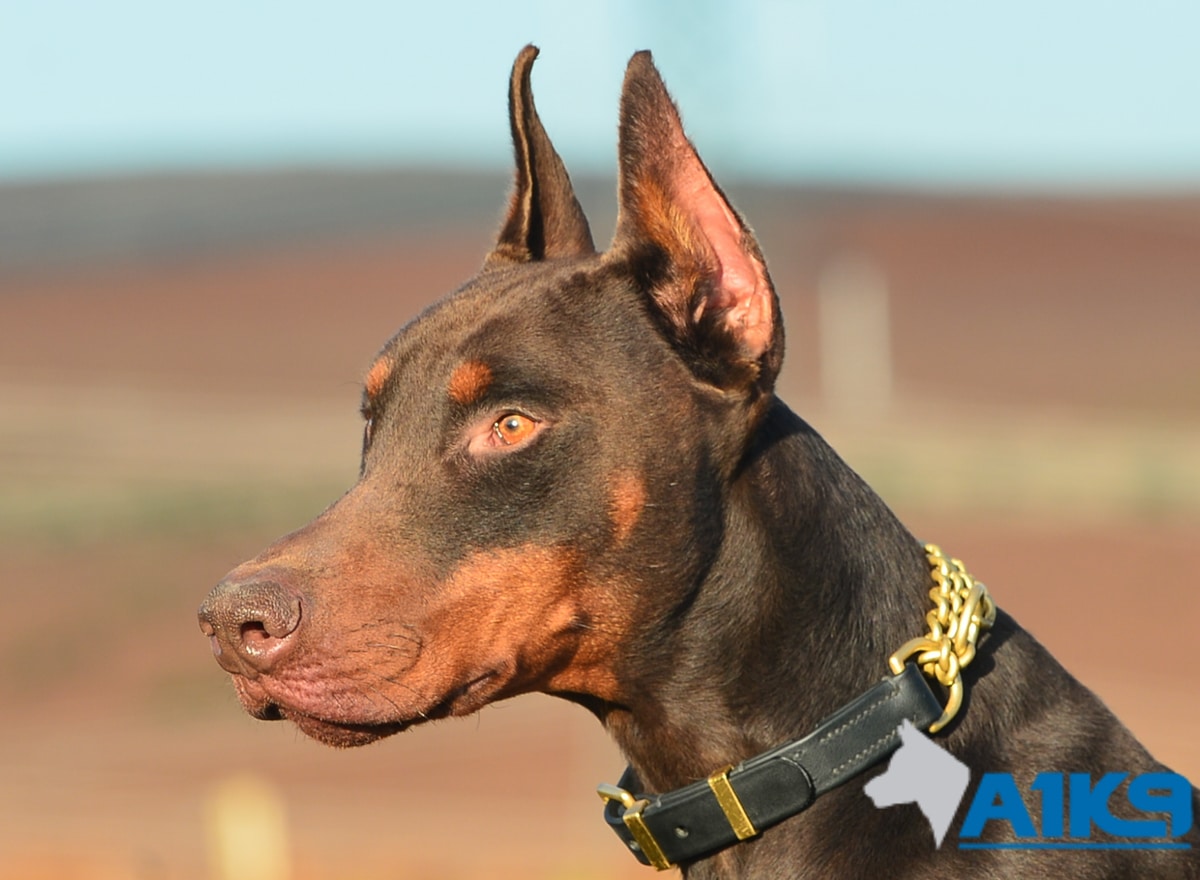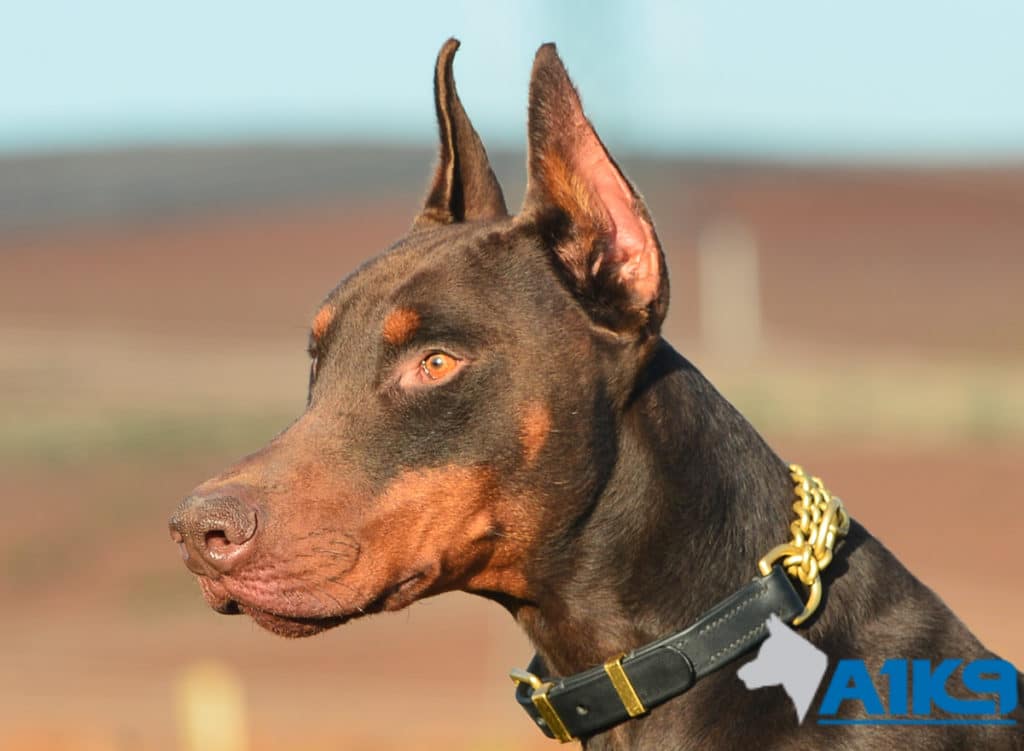 About Thor
A1K9 Thor is a superb cropped and docked, liver and tan Dobermann male that we imported from Romania. Thor is A1K9 Blaze's litter brother and it is already evident that this boy has all the necessary attributes to follow swiftly in his brother's footsteps. Thor is just like his brother as regards his temperament and attitude, taking everything calmly in his stride and enjoying learning the new things that we have been teaching him. On both the obedience and protection fronts, he is proving that the Dobermanns as a breed have not lost that working ability, it's just a question of finding the right dogs and in Thor's case we have certainly done that. We will be giving further updates on this lovely lad as his training progresses; however, I am fairly certain Thor will develop into another top notch A1K9 family protection dog in Dobermann form.
Read More...