A1K9 Family Protection Dogs News and Media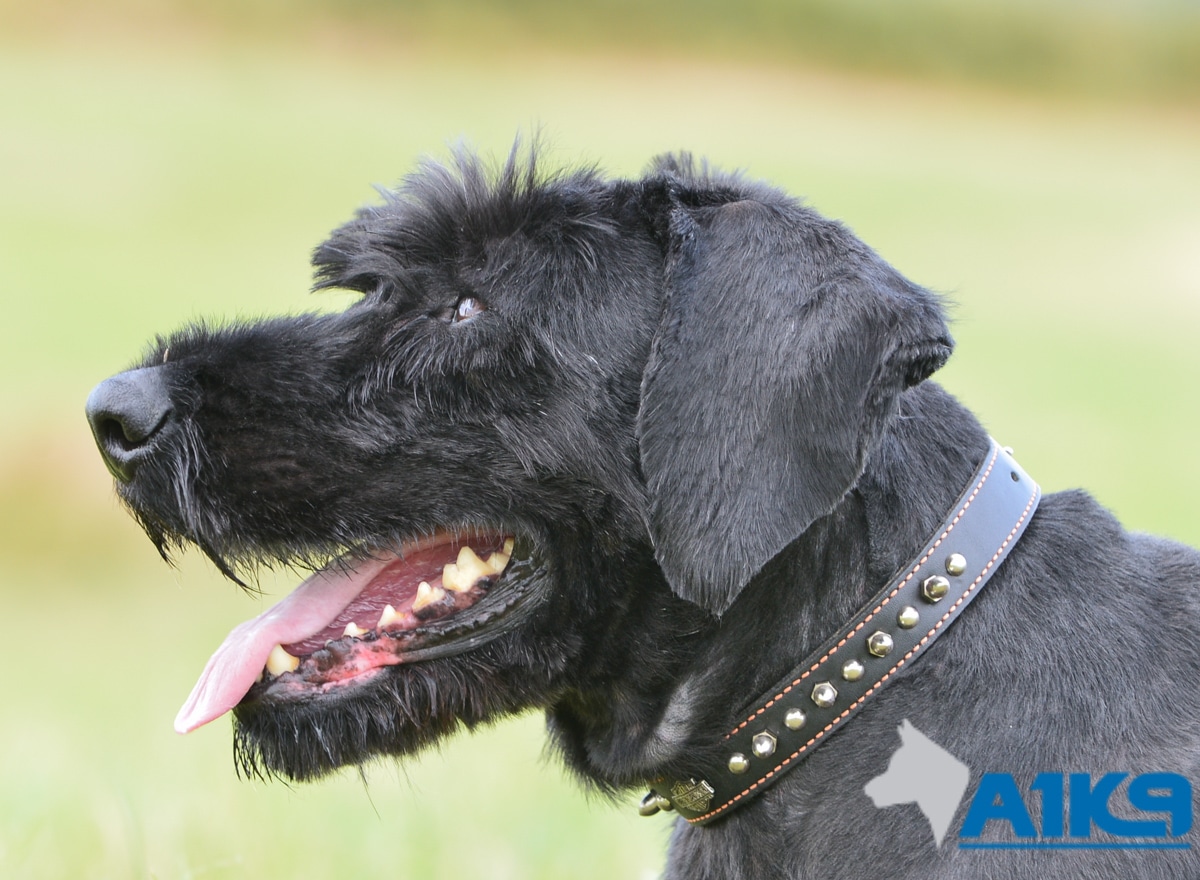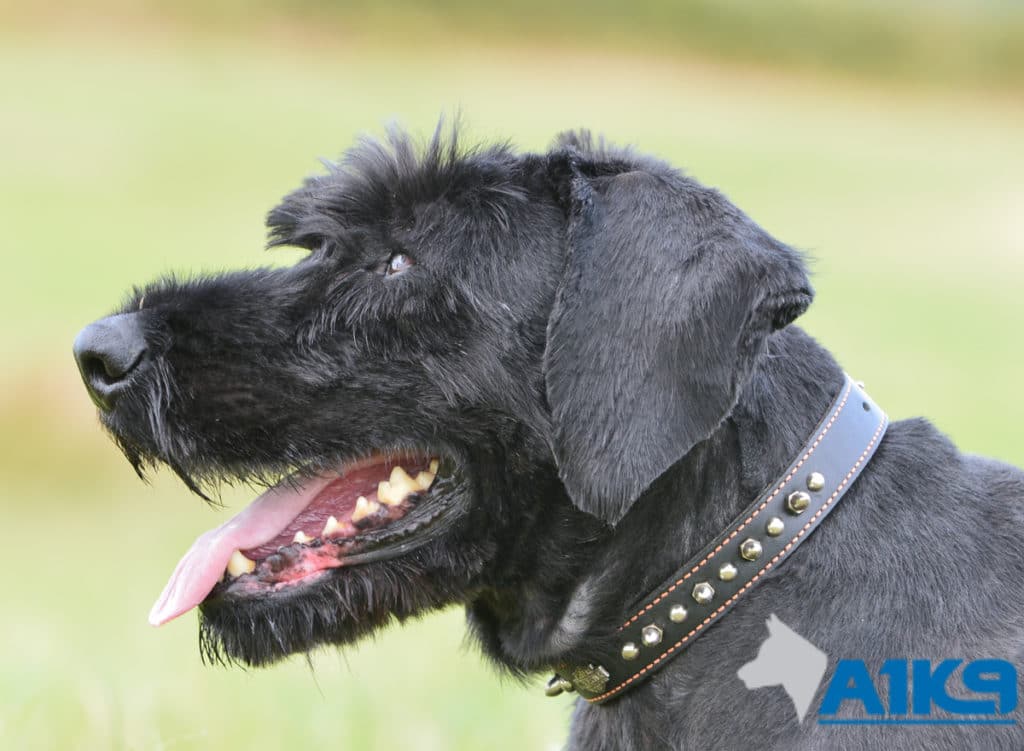 About Ruby
A1K9 Ruby is a female Giant Schnauzer that we currently have available. A super social girl with nice control and obedience, Ruby has just reached the end of her training at A1K9 and has fallen below the necessary grade to be classed as a family protection dog; so will be sold as an obedient pet/deterrent.
Ruby was raised in a family home with children and is therefore used to busy households. She is happy to romp and play with all the dogs we have here, both large and small and has proven herself to be a very good all-rounder.
Ruby will no doubt appeal to a potential client who wants a non-shedding breed possibly because of allergies and whilst she is a large dog, she has a softer look than the GSDs, Dobermanns, Malinois and other working breeds that we typically train.
Ruby is certainly a well mannered, loyal and obedient dog, a fun family pet and will, without doubt, prove to be a great deterrent to unwanted visitors due to her imposing size and when required, that big bark.
Read More...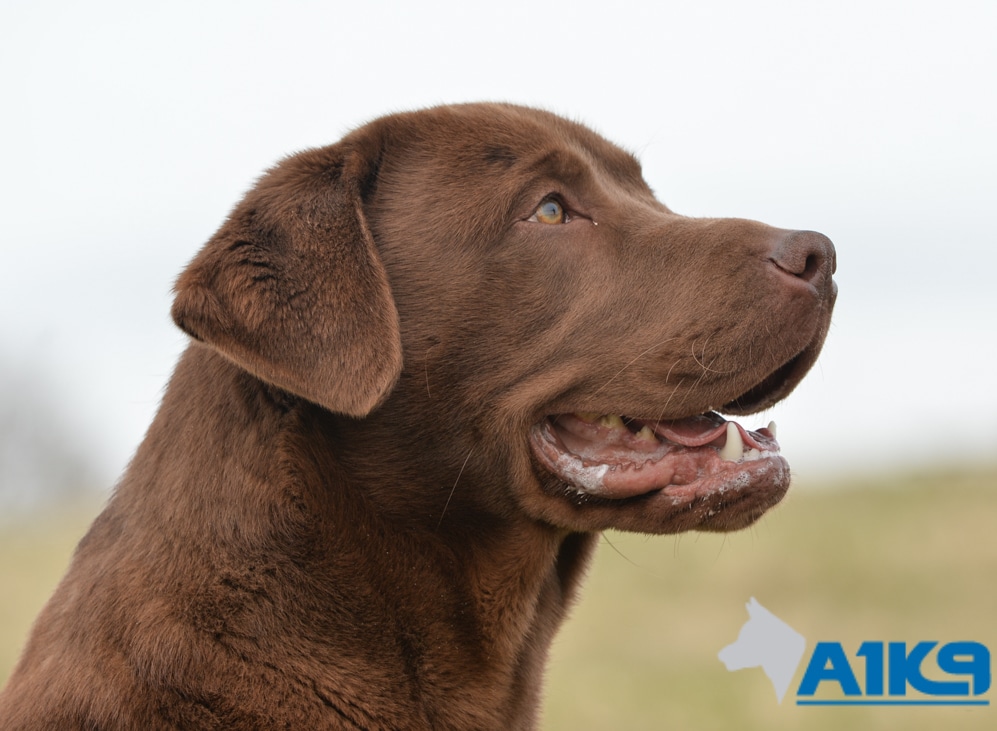 Rufus is a young Chocolate Labrador that we bought and have obedience trained here at A1K9. He is a very handsome and well-proportioned example of the breed with a personality to die for and is also Kennel Club registered!
This young lad has gained the nickname 'Mr Wiggles' whilst being with us and boy does that name suit him! Come rain or shine Rufus' tail is always wagging; if you ever need cheering up you can count on Rufus to brighten your day! He would make a magnificent addition to any family that are looking for an extremely obedient pet; he has a super temperament and is happy in all aspects of life, he is a real 'people's' dog and loves nothing more than playing ball in the garden, going for a long walk or simply chilling in the house. He adores spending time with both adults and children alike, he also gets on brilliantly with all other dogs; male, female, big or small Rufus loves them all!
Since being with us at A1K9, Rufus has sailed through his obedience training and we have found him to be very willing and attentive, his obedience work is very crisp he is extremely controllable even with a complete novice handler.
If you are looking for an all-round fun, obedient family pet that will be happy to accompany you anywhere even the busiest of places without being phased then look no further than Rufus.
He will be sure to steal your heart!
To see Rufus in action please check out his video.
Read More...